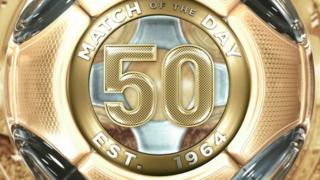 Media playback is not supported on this device.
Mark Chapman presents highlights of the day's two Premier League games, which includes defending champions Manchester City's trip to Liverpool.
In this fixture last season, the two title rivals produced a thrilling contest which was settled by Philippe Coutinho's late goal, earning Liverpool a 3-2 victory at Anfield after City had fought back from 2-0 down. That win put Brendan Rodgers' side in the driving seat in the race for the Premier League title with four games to go, although City ultimately emerged victorious.
The day's other game sees Arsenal host Everton at the Emirates Stadium as the Gunners look to keep their fight for a top-four place on course. Everton have struggled this season and will be hoping to finish the campaign with a flourish.
You can visit the Match of the Day Facebook page here (external) and follow the Match of the Day Twitter account here. (external)
This is a live stream of BBC One starting at 22:30 GMT.
Available to UK users only.